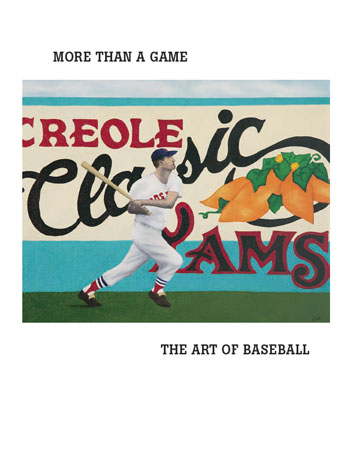 More Than a Game
The Art of Baseball
George Krevsky Gallery
8.5 x 11 P.B. 88pgs.
$30.00 - 1-60052-003-0

It was sometime after World War II when I fell in love with the game. It was in a schoolyard in Pennsylvania where my friend Gerry and I played endless games of wallball. His hero, Ted Williams, invariably would break my heart as he cleared the bases with a double or homer against Connie Mack's hapless Philadelphia A's. My father would find me in tears, slumped over our kitchen radio, hearing the Western Union rebroadcast of an away game, or listening to the scratchy crackly voices of Mel Alan or Russ Hodges when my team was on the road. It was more than a game to me.
…The years went by, I never did learn how to hit a curve ball from Bobby Geiger or solve the high hard one from Larry Allander before he left town to sign with the Milwaukee Braves…but something happened in the ballparks at Philadelphia's Shibe Park, New York's Yankee Stadium, Baltimore's Municipal Stadium, San Francisco's Candlestick Park, and the Oakland Coliseum. Businessmen, neighbors, artists, CPA's, lawyers, daughters, nephews, actors, authors, songwriters, poets, art dealers, rabbis and priests, family and friends…we all shared a common bond…a love for the National Pastime, a game that belongs to the people…the fans…not to the agents, owners, and media giants. Yes…it's more than a game, and through the eyes of each of these artists, we hope you'll feel the stir of memories and see the greatness of this game. Our game. Baseball.
George Krevsky
Spring Training 2005