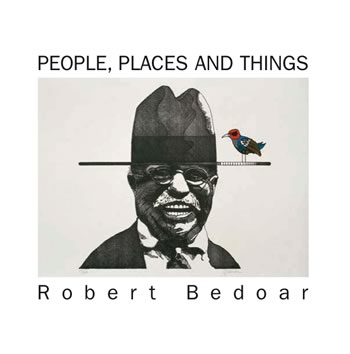 People, Places and Things
Robert Bedoar & Douglas Whitfield
8.5 x 8.5 P.B. 96pgs.
$29.95 - 1-60052-012-X

Each of my drawings takes approximately 100 hours, or more, to complete. Please keep in mind,many times when almost complete with a drawing, an accident would occur i.e. Rapidograph pen drying out,point breaking, spillage of anything imaginable or just deciding to take the drawing in another direction, would put me back to square one. There aren't ways to correct errors or re-work "work" on blotting paper. After completion of my drawings, I photograph them on a large 20-foot long process camera. Using several darkroom photographic techniques, I create a film positive of my drawing, capturing ALL line work details, using a still development technique. The film positive of my drawing is then exposed on a 500 line per inch- mesh screen. Using a photo sensitive material, exposed with a high intensity exposure source, I create my templates for pulling my colors. Making sure that registration of colors is accurate (please keep in mind, for each color you need a film positive), I begin my edition. The small areas of color are pulled first, with registration marks far outside of the image area, with the fine line template of my pen and ink drawing pulled last. All of my serigraphs are hand pulled in very small editions.