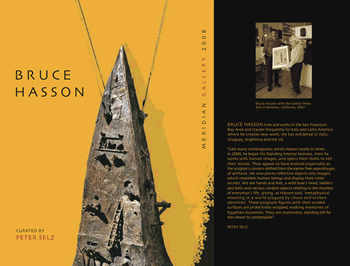 A sense of continuity, a connection to ancient and Renaissance art as well as to the modernist tradition appears in the art of Bruce Hasson. His first teachers in college were Maurice Lapp and James Rosen, an exemplary artist whose work encompasses essential moments in art history and who was able to impart the continuity of art to receptive students. Hasson was invited to spend a summer at Rosen's house in Sebastopol, where he made sketches of apple orchards and the surrounding hills of Sonoma County.
Hasson then went to the University of California, Santa Cruz and the Academia della Belli Arti in Florence, where he received traditional training in figurative art and to the academy in Carrara where he studied sculpture, which was to become his vocation. In both Tuscan cities, the exchange of ideas, of different approaches to art and divergent sensibilities with students from Egypt, Yemen and beyond, was stimulating.
In 1975, he had his first solo show in Florence. For the next five years Hasson spent much of his time in Italy, working on commissions and his own work. The stone carvings were done in Italy and the bronzes were cast in Berkeley at expert craftsman Piero Mussi's Artworks foundry. There Bruce Hasson engaged with sculptors Stephen de Staebler, Arnaldo Pomodoro, Nathan Oliveira, Jack Zajac and Peter Voulkos, who bought some of Hasson's work fresh from the foundry. During the '70s and '80s Hasson continued his commissions and made sculptures and assemblages consisting of old tools he had collected in Europe and Latin America and all kind of found objects, which he would weld together with a refined sense of geometry and composition. He was inspired by Etruscan implements and by the vitality of their bronze and terra-cotta human effigies.
Hasson has studied the sculpture of the moderns, admired Giacometti's figures, Naum Gabo's linear compositions, the work of Isamu Noguchi, and David Smith's boldness of form, and Smith's sense of the history of sculpture. He went to Paris to see an exhibition of Jean Ipousteguy's work and certainly would agree with the French sculptor's statement that "Even without my knowledge, past creations have influenced me. The world is not the result of contemporaries only." And having spent much time in Italy, he is familiar with eminent Italians such as Lucio Fontana and Luciano Minguzzi. Hasson differs from many California artists of his generation in his great exposure to and curiosity about artists from other countries.
In 1989 he met his future wife, Monica, from Uruguay and since then he has spent much time there and other places in South America, including Peru, where Machu Picchu made an indelible impression. He places great value in the sculpture of the Aztecs as well as the Incas. He had long admired Torres-Garcia's paintings and in Uruguay he also became acquainted with his students: Gonzalez Fonseca, Julio Alpuy and Jose Gurvich and other Uruguayan and Argentinean artists and frequently returns to these countries, coming back with new and innovative graphic pieces.
Bruce Hasson
Bruce Hasson
8x10 P.B. 76pgs.
$45.00
1-60052-026-X

In 1993, the bell became a principal subject for Bruce Hasson. He made a series of sensitive studies for the Bell Project. These drawings, done in pencil, pen and ink, are not unlike sketches made by architects before they resorted to computers. In these studies, he judiciously placed bells of varying shapes together with clappers and ladders on paper. The bell has been an almost universal symbol of communication for as long as mankind has known how to cast metal. The most ancient bells have been found in Babylonia, and the sounds of bells or gongs have been essential in ceremonial events in Assyria, Egypt, China, and Japan, India, Burma, and, of course, in Christendom. In Europe, bells have been placed on the spires of churches, in belfries and in campaniles, built to house liturgical bells. They can be tuned to sound as delicate as chimes or carillons, or to ring loudly as sonorous instruments. They strike the hours. They are calls for dancing as well as warnings. They summon worshipers to church and soldiers to war; they can also strike for peace.
The great German Romantic poet Friedrich von Schiller, concluded his famous moralistic poem "The Lay of the Bell," written in 1799 during the French Revolutionary War with: "May the first sound be hallowed to peace". In 1996, Hasson built the Children's' Bell Tower in Bodega Bay about 100 miles north of San Francisco, where 180 bells of different sizes commemorate a boy killed in Calabria, Italy. In their time of grief, the boy's parents had donated his organs to others so that they could continue their lives. Bells for the tower were donated by schools, churches and families from all over Italy.
The largest central bell on top of the tower was cast in the Martinelli foundry near Rome where bronze bells have been cast for the Vatican for a thousand years, and was blessed by Pope John Paul before being sent on to Bodega Bay to be installed. The Children's Bell Tower, a light, airy 17 foot high tower placed high on a windswept bluff overlooking the bay, has become a destination for visitors. Soon after completing this project, Hasson made a series of Bells for the Consiglio Reggio Calabria and another sculpture, that went to the Museo del Novocento in that province. In 1995 the artist created a large bell for the celebration of the fiftieth anniversary of the founding of the United Nations, where the U.N. Charter was signed. It is named the War Memorial Building, but the bell was a signal of peace. It was cast in carbon steel from melted weapons, which had been collected by the police. Metaphorically, swords were cast into ploughshares. The work was installed in the lobby of the Beaux-Arts building and suspended from a steel structure. At the celebratory evening, U.N. General Secretary Boutros Boutros Ghali, President Clinton, and Attorney General Janet Reno were in attendance.
In 1999, as the century was nearing its end, Hasson made his largest bell, called Millennia. Weighing 1700 pounds and again cast in carbon steel, using melted guns, it is a monument to human survival. The shape of this bell is unorthodox and it is indeed a unique and inventive piece of sculpture. The lower part appears like a traditional bell, but the upper section is streamlined and recalls the shape of a missile. The ambiguity of its structure is itself a poignant comment on destiny. The sides of the Millennia Bell are carefully patinaed and embellished with reliefs recalling the imagery and geometry of early cartographers. The work is intended to inspire peace, as well as humanity's search for a sustainable environment. This bell was first installed at the Campidoglio in Rome, during the 2000 Nobel Peace Prize Conference, where Mikhail Gorbachev struck it during its dedication. It is now installed in the holy city of Assisi.