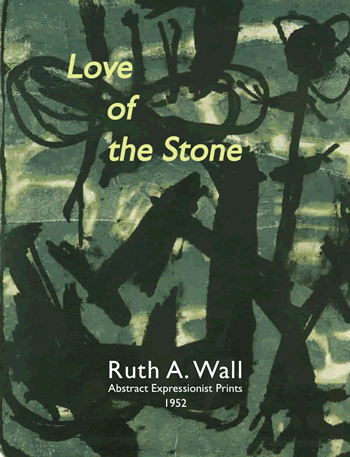 She came regularly for years, often chatting with me about her travels but never about her personal life or her own art. She was an exceedingly private person.
I often asked to see her work. Finally she brought me a few things to sell, small sculptures made of found objects and a few books of drawings made in Paris. I suggested we do an exhibition. A suggestion that was met with silence.
In 2004, 20 years from the time we met, Ruth finally consented to an exhibition. When a biography was requested she prepared the document that we have reprinted here as "My Story." It was delivered handwritten on the back of catalogue illustrations.
The exhibition required a visit to her apartment to select the work. This opened yet another window on her world. Her rooms were filled with collections of all sorts: ethnic jewelry, books, ceramic objects, stones, umbrellas striped of their fabric and hung upside down to create a forest canopy on which to hang treasures found and made.
The long-anticipated exhibition took place in April 2005. Art Exchange showed paintings, drawings, collages and her "bizarre other" – collaged envelopes. It took the charm of my colleague and now Ruth's friend, Mark Jawgiel, to convince Ruth to even attend her own exhibition.
Love of the Stone
Ruth Wall
8.5x11 P.B. 205pgs.
$45.00
1-60052-023-5
Attend she did! Dressed in her signature jeans and ethnic embroidered jacket, she sat quietly in the gallery smiling and refusing to discuss her work. She accepted congratulations and sales without ego, which was in character. Years earlier, when I tried to tell her that a famous person had purchased a painting, she stopped me saying: "It matters not more or less where the children go when they leave the house."
The exhibition was a success which seemed of absolutely no interest to Ruth. What she cared about was having the art out of her apartment.
I assumed that the exhibition and a few continuing sales would be the conclusion of our collaboration.
Wrong, wrong, wrong! Imagine my surprise to learn in August 2006 that Ruth wished me to take charge if she was no longer able to maintain her absolute independence. In 1998 she had drawn up legal documents naming me as guardian for health care, finances and her art, and co-executor of her will. When Ruth's memory faded I made arrangements for her to live with her family in Utah. The family has assumed all legal and health care obligations. The problems and privileges of her possessions fell to me. Exercising this responsibility is where this publication begins.
In clearing out the apartment in which she lived for over 50 years, I discovered among her numerous collections two surprises: notebooks of her writings labeled "My Abortive Offspring" and hundreds of Abstract Expressionist prints made in 1952 at the California School of Fine Art (now the San Francisco Art Institute).
It was the prints which knocked me out! Literally and figuratively, for they were discovered on the last day, residing in portfolios placed behind a bookcase. When opened, the room filled with the smell of lithographic inks. I surmise that Ruth made the work, brought it home, stored it and NEVER looked at it again.
While I knew that Ruth had experimented with printmaking while in art school, I had never seen a print and assumed that they were of no interest to her and that she had made just a few as part of her overall explorations.
I suspected that I had something unusual. I took the portfolios to Dan Lineau at The Annex Galleries in Santa Rosa. Dan has been a fine print dealer for over 30 years. His comment on seeing the work was: "My dear, you have a challenge and an opportunity." It was Dan Lineau who encouraged me to take this work seriously because it is rare, if not unique, to find mid-century Abstract Expressionist prints of this quality and in this quantity.
- Claire Carlevaro